10.00
10.00
10.00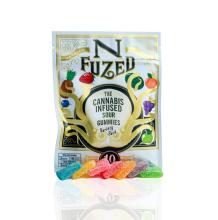 NFuzed Sour Gummies | Variety Pack 100mg Rec
Pick-up Location
Note:
Price may vary at different stores
Description
NFuzed cannabis gummies are a whole vacation stuffed into little bite-sized, deliciously sweet, and just a little sour lozenges infused with pure and consistently dosed liquid THC. Variety pack flavors include Watermelon, Blueberry, Apple, Peach, Pineapple, Grape and Strawberry. A guaranteed good time for new and experienced users alike! Njoy life. Affordably.
INGREDIENTS: Pure distillate.
THC DOSAGE: 100mg THC total.
10 gummies x 10mg THC each.
E2HDHzvqMz
Jack D
NFuzed Sour Gummies | Variety Pack 100mg Rec
Similar Products