1
USD
10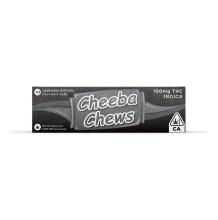 Cheeba Chews | Indica 100mg Rec
Pick-up Location
Note:
Price may vary by store
Description
Cheeba Chews Indica Chocolate Taffy 100mg. "Indica chews and chill" is the ideal way to describe the effects of these individually doses chocolate taffies. Unwind, decompress, and settle in for a movie with these Indica-specific chews. Individual 10mg doses for first-time or low-tolerance customers. Cheeba Chews™ is dedicated to producing the highest quality cannabis infused edibles, delivering superior customer service and creating a reliable and enjoyable product line to customers. INGREDIENTS: Sugar, Glucose Syrup, Cocoa Powder, Palm Kernel and Palm Oil (sustainably sourced), Nonfat Milk, Mono - Diglycerides, Chocolate Liquor, Soy Lecithin (emulsifier), Natural Flavors, Whey, Calcium Caseinate, Salt, Caramel Color. DIETARY RESTRICTIONS: Gluten & peanut free; low calorie, low sugar. STRAIN TYPE: Indica. DOSAGE: 100mg THC total. 10 taffies x 10mg THC total.
rv72wYnEXJ
Characteristics
Manufacturer
Cheeba Chews
Characteristics
Manufacturer
Cheeba Chews
Pauly K
Cheeba Chews | Indica 100mg Rec
Plain and simple edible. I've been buying them for while and they are very consistent.
Similar Products