40.00
USD
40.00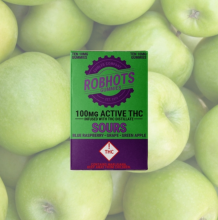 Robhots Gummies | Sours 1000mg Med
Pick-up Location
Note:
Price may vary by store
Description
Robhots Sours Gummies 1000mg. Using raw THC distillate to infuse gummies really provides the highest quality of edible imaginable. Being infused with the distillate produces Robhots that taste amazing with no hashy taste to them, very fast acting & effective, and will also provide a clean high free of a groggy feeling the next day. Includes Blue Raspberry, Grape, Green Apple flavors. INGREDIENTS: Glucose syrup, sugar, water, gelatin, sorbitol, citric acid, artificial flavor, artificial color, potassium sorbate, powdered sugar, marijuana concentrate. DIETARY RESTRICTIONS: Gluten free, no major allergens. DOSAGE: 1000mg THC. 20 gummies x 50mg THC each. Image provided for reference only. Use the description to check the content.
vPhgai3jZs
This product is not rated yet. Be the first to review it.
Similar Products