1
USD
10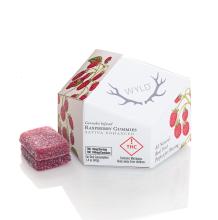 Wyld Raspberry Gummies | Sativa 1000mg Med
Pick-up Location
Note:
Price may vary by store
Description
Raspberry Sativa gummies are made with real fruit and are enhanced with fruit terpenes that will assist in creating euphoric and energizing experiences. Ideal for keeping you focused on the task at hand, refining your creative endeavors, or even better, getting you out on your next expedition!
INGREDIENTS: Tapioca Syrup, Sugar, Water (H20), Raspberry Juice Concentrate, Gelatin, Natural Flavoring, Coconut Oil, Citric Acid, Cannabis Extract, Sunflower Lecithin, Coconut.
PREVAILING TERPENES: Limonene, Alpha-Pinene, Beta-Pinene, Valencene.
STRAIN TYPE: Sativa Enhanced.
DOSAGE: 1000mg THC total. 10 gummies x 100mg THC each.
Tw5Z2fRFba
Tim Toker
Wyld Raspberry Gummies | Sativa 1000mg Med
I have been using edibles for a long time, and Wyld is by far and away the absolute, hands down, best I have ever used. The Sativa gives you energy, alertness, pain relief, without feeling like your are on another planet. Previously, sativa, hybrid, indicia were all about the same, and couldn't tell you the difference for a million $. With Wyld, Sativa is an upper, and with the Indica gummies, don't make plans other than reeellllaaaaxxxxing. Can't go wrong.
Similar Products