1
USD
10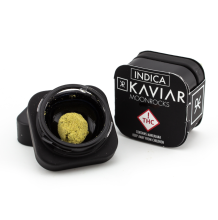 Kaviar MoonRocks | Indica 1g Rec
Pick-up Location
Note:
Price may vary by store
Description
Proprietary blend of high quality flower, oil, and kief makes Kaviar Moonrocks smooth, consistent, and slow-burning. You can expect a premium, unique experience every time, as no 2 batches of Kaviar are the same. Full spectrum BHO contributes to a high flavor profile.
STRAIN TYPE: Indica.
POTENCY: 60%-80%. Please check the packaging for details on a particular batch.
j63LrufkwN
Alex Jones
Kaviar MoonRocks | Indica 1g Rec
Caviar from Kaviar is great. All the upsides without the hassle of doing it yourself and getting messy. Da bomb!
jon
Kaviar MoonRocks | Indica 1g Rec
For connoisseurs! Thank god for spell check. indica gem!
Similar Products