55.00
55.00
55.00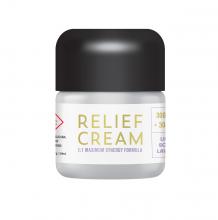 Escape Artists Lavender Relief Cream | 1:1 300mg Rec
Pick-up Location
Note:
Price may vary at different stores
Description
Escape Artists' 1:1 Lavender Relief Cream is a concentrated, highly bioavailable formula designed to deliver our blend of pure cannabinoids quickly to areas needing relief.
Fast penetration for deep muscle tissue discomfort. Not greasy, not staining. Absorbs quickly. Superior bioavailability using pharmaceutical technology.
Takes effect in 10 minutes or less. Benefits last 2-3 hours
CANNABINOIDS RATIO: 1:1 CBD:THC.
DOSAGE: 300mg CBD Isolate and 300mg THC Distillate total.
NET WEIGHT: 2.0oz. / 57g / 59ml.
w6bKupBxrC
Characteristics
Manufacturer
Escape Artists
Characteristics
Manufacturer
Escape Artists
Honey
Escape Artists Lavender Relief Cream | 1:1 300mg Rec
A great weed topical! This lotion works on every level
Similar Products