1
1
10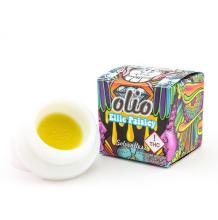 Olio Premium Mixed Micron Live Rosin | Sour D (BX) x Wilson #6 1g Med
Pick-up Location
Note:
Price may vary at different stores
Description
Rosin made from a mixed spectrum of different sized trichome heads, ranging from 40u-179u. This rosin contains the widest variety of cannabinoids and has nearly the same amount of THCA as 90+120u rosin.
Olio's team of hash enthusiasts first started perfecting cannabis extraction back in 2012 and have been pushing the envelope ever since. They are focused on terpene preservation and unique flavor profiles in their concentrates. Their growers and genetic library are the finest in the state.
STRAIN TYPE: Hybrid.
POTENCY: Please check the packaging for details on a particular batch.
3Ycpqof8rT
This product is not rated yet. Be the first to review it.
Similar Products