30.00
30.00
30.00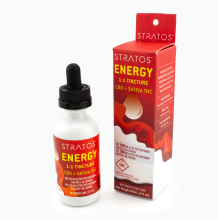 Stratos Energy Tincture | 1:1 100mg Rec
Pick-up Location
Note:
Price may vary at different stores
Description
Relax 1:1 Tincture is a 1:1 CBD tincture made with equal parts whole plant CBD and hybrid THC to create a balanced, mellow effect. The base oil for this product is MCT oil.
To create a homogeneous mix, Stratos uses a high tech combining method. This eliminates any 'hot spots' in the product to ensure consistent dosing every time.
Our cannabis oil is derived via whole plant CO2 extraction. The flavor is subtle, citrusy tangerine.
DIETARY RESTRICTIONS: Gluten, fat, and sugar free, vegan.
STRAIN TYPE: 1:1 CBD:THC. Hybrid.
DOSAGE: 100mg CBD and 100mg THC total. 10 4ml drops x 10mg CBD and 10mg THC each. Total volume 2 fl. Oz.
AsvAsv2qZ6
Kyle
Stratos Energy Tincture | 1:1 100mg Rec
Up you go! Energy shit. It works
Jake G
Stratos Energy Tincture | 1:1 100mg Rec
A great buzz for a work out. I get too bored doing anything numbing and this helps better than music. Plus it works right away. Stratos is the bomb!
Saleena
Stratos Energy Tincture | 1:1 100mg Rec
Good tincture. Reliable in its effects
Similar Products