1
USD
10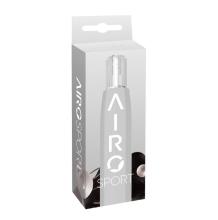 AiroPro Sport Battery | Grey
Pick-up Location
Note:
Price may vary by store
Description
Leveled-up Satisfaction. The AiroSport Vaporizer gives you the same high-performance, specialized simplicity, and velvety potent draw that you love about the AiroPro, but with the added level of bright individuality and a feather-light feel. The AiroSport Vaporizer pairs seamlessly with the AiroPod Cartridges to give you the same Airo Brands' oil you know and love.
Improved Design. Keep moving fluidly and endlessly with the masterfully designed AiroSport in your back pocket. At Airo Brands' we're always raising our standards. So we've advanced our design with an improved contact pin. The AiroSport will never cause you to pause.
Tenacious Body. Whether you're on the beach, in the mountains, or on your couch, know that your AiroSport will thrive. A lightweight and scratch-resistant polycarbonate body is designed to keep up with your active lifestyle.
Guaranteed Experience. For a distinctly sublime vaping experience, we designed the AiroSport vaporizer to pair exclusively with AiroPod Cartridges. With the AiroSport and AiroPod union, feel dignified aptitude and heightened charisma with every breath. Simply connect any AiroPod cartridge to the AiroSport and you're ready-to-go.
Simply Effortless. Our unibody design ensures you'll always have what you need. Never forget or lose a piece of your AiroSport because we've designed it to be one with you.
Distinct Individuality. Amplify your voice, coordinate your mood, and complement your lifestyle with lively, vibrant colors. Available in Sunburst Orange, Cobalt Blue, Electric Green, and Stone Grey. 
BATTERY TYPE: Suitable for AiroPod/AiroPro cartridges only. Not compatible with 510 Thread cartridges.
Fochp7ugLP
natalie
AiroPro Sport Battery | Grey
I love it, my favorite thing about it is it vibrates as you hit it. Only negative is most carts don't screw into so you have to buy their brand carts
Similar Products