1
USD
10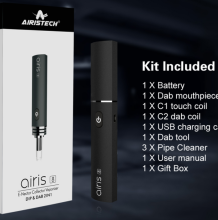 LuvBuds | Airis 8 Dip n Dab 2 in 1 Electric Nectar Collector
Pick-up Location
Note:
Price may vary by store
Description
The Aris 8 Dab & Dip Wax pen is kicking things up by keeping it simple. On this device you'll find the charging port and a button. By clicking the button you can scan through 3 different voltage setting, then fire using that same button. This device is very portable and has unique features, so whether at home or on the go, this vaporizer is perfect to throw in your pocket.
Features:
    Battery capacity: 400mAh
    3 Different voltage settings to choose from
        3.4V (Green)
        3.7V (Blue)
        4.2V (Red)
    Includes touch dip coil (electric oil straw)
    Easy to use/easy to clean
    Dependable device
    Dual quartz coil and mouthpiece - allowing for clean. rich taste
    Micro-USB for charging
    Dimensions: 11.8cm x 1.8cm
What You Get:
    1x Airis 8 Battery
    1x Airis 8 Mouthpiece
    1x C1 Touch Coil
    1x C2 Dab Coil
    1x USB Charging Cord
    1x Dab Tool
    3x Cleaning Brush
    1x User Guide
    1x Retail Gift Box
FzNcm6gf3p
This product is not rated yet. Be the first to review it.
Similar Products