20.00
20.00
20.00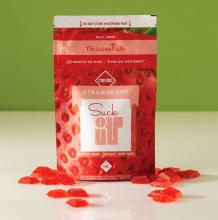 Canyon Cultivation Suck it | Strawberry 100mg Rec
Pick-up Location
Note:
Price may vary at different stores
Description
Tiptoe through the strawberry patch - but with your mouth. Sweet and sour and the just the right amount of the thc sweet life, Strawberry SuckIts are the candy that's just plain dandy. A quick pop of the child-proof top of one of our SuckIt varieties, and you'll soon understand why we put so much into each candy. From the wildly imaginative flavors, to the bright colors to the wonderful effects - (take your time – remember) each of our flavors is an experience waiting to happen. Dosed at 10mg per tasty candy, we advise starting with one, then waiting. Give it time. Then, as you feel the effect, you can begin to manage your experience.
ynyKCwZfLk
Characteristics
Manufacturer
Canyon Cultivation
Characteristics
Manufacturer
Canyon Cultivation
Viola
Canyon Cultivation Suck it | Strawberry 100mg Rec
Great strawberry suckers if you are looking for quick relief or just want to have fun. Can't say if they are indica or sativa. It is almost never clear with edibles. All I can say is it gives you a buzz.
Similar Products