18.00
18.00
18.00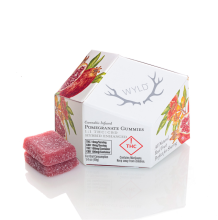 Wyld Pomegranate Gummies | CBD 1:1 100mg Rec
Pick-up Location
Note:
Price may vary at different stores
Description
Wyld has taken the best of both worlds with their Pomegranate gummies. They are a great compliment to any adventure by providing a balanced and enjoyable high for both mind and body. If you are new or sensitive to edibles, the Pomegranate gummies are an excellent place to start. Have some before getting into your yoga routine, or climbing to the highest peak. Wherever your expeditions may take you, these Pomegranate gummies make for a perfect companion. CONTAINS: Tapioca Syrup, Sugar, Water (H20), Pomegranate Juice Concentrate, Gelatin, Natural Flavoring, Coconut Oil, Citric Acid, Cannabis Extract, Sunflower Lecithin, Coconut. STRAIN TYPE: Hybrid. 1:1 CBD:THC. DOSAGE: 100mg THC and 200mg CBD total. 10 gummies x 10mg THC and 10mg CBD each.
aZtS3L5aZr
J&H
Wyld Pomegranate Gummies | CBD 1:1 100mg Rec
Wyld makes some kick ass gummies. And pomegranate is my favorite flavor.
Similar Products