1
USD
10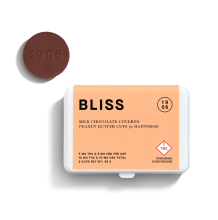 1906 Bliss Dark Chocolate Peanut Butter Cups | 1:1 10mg Rec
Pick-up Location
Note:
Price may vary by store
Description
Dark Chocolate Bliss Peanut Butter Cups from 1906 New Highs. Recreational. Get next-level happy with this special blend of high grade cannabis, Kanna and other mood enhancing plant medicines. Thoughtfully designed to give you a bubbly sense of wellbeing and euphoria. Fast acting formulation begins to work in just 20 minutes. Kanna elevates mood, Magnolia curbs anxiety, L-theanine creates calm contentment, and theobromine gives a clean energy boost. NUTRITION: 1 piece (18g), servings: 2, amount per serving: calories 100, fat cal. 70, total fat 7g (11% dv), sat. Fat 3.5g (18% dv), trans fat 0g, cholest. 0mg (0% dv), sodium 45mg (2% dv), total carb. 6g (2% dv), fiber 2g (8% dv), sugars 5g, protein 2g, vitamin a (0% dv), vitamin c (0% dv), calcium (0% dv), iron (2% dv). Percent daily values (dv) are based on a 2,000 calorie diet. INGREDIENTS: dark chocolate [cocoa liquor, cane sugar, cocoa butter, soy lecithin (emulsifier), natural vanilla extract], organic peanut butter, peanut flour (deflatted), powdered sugar (sugar, cornstarch), organic cocoa butter, organic mesquite flour, organic ghee, sugar, sea salt, theobromine, sunflower oil, sceletium tortuosum extract, cannabis extract, magnolia bark extract, rosemary extract. DOSAGE: 20 mg THC and 20 mg CBD total. 2 cups x 10mg THC and 10mg CBD each.
dy7ScBwCvi
This product is not rated yet. Be the first to review it.
Similar Products