10.00
10.00
10.00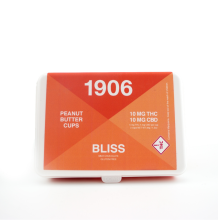 1906 Bliss Milk Chocolate Peanut Butter Cups | 1:1 20mg Rec
Pick-up Location
Note:
Price may vary at different stores
Description
Bliss Peanut Butter Cups | 1:1 20mg from 1906 New Highs. Recreational. Get next-level happy with this special blend of high grade cannabis, Kanna and other mood enhancing plant medicines. Thoughtfully designed to give you a bubbly sense of wellbeing and euphoria. Fast acting formulation begins to work in just 20 minutes. Kanna elevates mood, Magnolia curbs anxiety, L-theanine creates calm contentment, and theobromine gives a clean energy boost.
ibFMZqpqqK
Wilma
1906 Bliss Milk Chocolate Peanut Butter Cups | 1:1 20mg Rec
Bliss is the right word. Buttercup that gives you a buzz. I'm sold.
Similar Products