18.00
18.00
18.00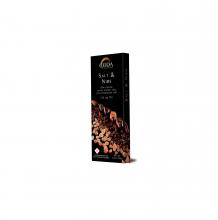 Coda Signature Chocolate | Salt & Nibs 100mg Rec
Pick-up Location
Note:
Price may vary at different stores
Description
Coda Signature Salt & Nibs Chocolate 100mg. Coda's custom blended 80% dark chocolate bar studded with Himalayan salt crystals, topped with honey caramelized cacao nibs. If chocolate could talk, it's possible these chocolate bars might sing. Coda Signature chocolate starts with ethically sourced cacao. The cacao beans can be traced to specific regions of South America bringing their own flavor and character based on each individual region's climate, traditions, and environment. INGREDIENTS: 80% South American cacao, honey cacao nibs, pink Himalayan salt DIETARY RESTRICTIONS: Gluten free, antioxidant rich, vegan. STRAIN TYPE: Hybrid. DOSAGE: 100mg THC total. 20 pieces x 5mg THC each.
roFduuTYHT
Characteristics
Manufacturer
Coda Signature
Characteristics
Manufacturer
Coda Signature
This product is not rated yet. Be the first to review it.
Similar Products