1
1
10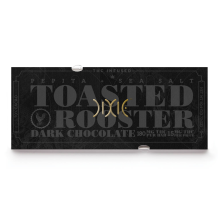 Dixie Chocolate | Toasted Rooster 100mg Rec
Pick-up Location
Note:
Price may vary at different stores
Description
There are chocolate marijuana treats, then there's this. Toasted Rooster is a gourmet experience for the sophisticated palate. It's dark, 70% cacao chocolate expertly blended with toasted pepita and artisanal sea salt for a perfect salty-sweet combo, and it's infused with 84 mg of THC. Each piece melts in your mouth and melts your worries away. Recreational dispensary Denver 7mg PerPiece 84mg PerBar When you consume a Dixie edible, the THC is processed in your liver—transforming from a Δ-9 is to a more potent 11-hydroxy Edibles can take longer to take effect than other methods of THC uptake, but the effects often last much longer too Chocolate with 70% or more cacao has been shown to lower blood glucose levels, cholesterol and blood pressure Dixie Edibles are triple lab tested for consistency and quality
This product is not rated yet. Be the first to review it.
Similar Products