1
USD
10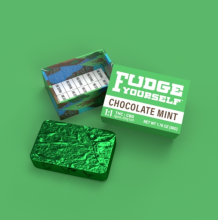 1:1 Fudge Yourself Mint Fudge, 50mg
Pick-up Location
Note:
Price may vary by store
Description
Expertly crafted with premium chocolate and just enough peppermint to wake up and satisfy your taste buds. When paired with our full-spectrum coconut oil balanced with 50mg THC and 50mg CBD, you get a refreshing, yet rich experience in perfect harmony for the holidays. Proudly made with flower from East Fork Cultivars, so you know it's the good stuff.
rdYh5W8kP3
This product is not rated yet. Be the first to review it.
Similar Products