1
1
10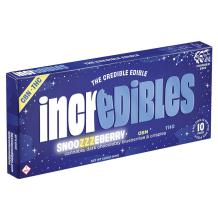 Incredibles Bar | CBN 1:5 Snoozzzeberry 500mg Med
Pick-up Location
Note:
Price may vary at different stores
Description
Hit the snoozzze bar! Sweeten your slumber with a dose of dreamland. Crunchy rice crispies, dark chocolatey blueberries, snores galore. A combination of CBN and THC to help you reach the quality shuteye you've been craving.
Every batch of incredible bars is triple-tested for quality and dosing assurance. We develop and produce all our bars in-house using sustainably-sourced oil processed through our proprietary method.
INGREDIENTS: Milk and dark chocolate coating, puffed rice, sustainable palm kernel oil, cannabis extract, freeze-dried blueberries, blueberry flavor extract, hemp-dervied extract.
ALLERGENS: milk, soy. Manufactured in a facility which processes tree nuts, peanuts, milk, and wheat.
DOSAGE: 500mg THC total. 10 pieces x 50mg THC each.
EZ6tuCM5BJ
This product is not rated yet. Be the first to review it.
Similar Products