1
USD
10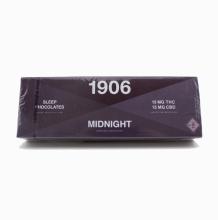 1906 Midnight | 1:1 Indica 6-Pack 30mg Rec
Pick-up Location
Note:
Price may vary by store
Description
1906 Midnight Chocolate represents a highly targeted blend of sleep-inducing plant medicines and relaxing cannabis that promotes deeper and more restful sleep. Midnight's key ingredient, corydalis, has been used for millennia, and works in several crucial ways. It helps you fall asleep because of its sedative properties, and it helps you stay asleep because it targets body pain and tension, including acute, inflammatory, and neuropathic pain. When taking Midnight, it's very important to be ready for bed. Within 15 minutes, you will feel the effects. INGREDIENTS: milk chocolate [sugar, cocoa butter, whole milk powder, cocoa liquor, soy lecithin (emulsifier), natural vanilla extract], corydalis rhizome extract, sunflower oil, cannabis extract, natural flavors. Also contains milk, soy. Manufactured in a facility that processes: milk, soy, tree nuts and peanuts. NUTRITION: serv. size: 1 piece (9g), amount per serving: calories 50, fat cal. 30, total fat 3.5g (5% dv), sat. fat 2g (10% dv), trans fat 0g, cholest. 0mg (0% dv), sodium 0mg (0% dv), total carb. 4g (1% dv), fiber <1g (3% dv), sugars 3g, protein 1g, vitamin a (0% dv), vitamin c (0% dv), calcium (0% dv), iron (0% dv). percent daily values (dv) are based on a 2,000 calorie diet. STRAIN TYPE: Indica. DOSAGE: 30mg THC, 30mg CBD total. 6 gems x 5mg THC and 5mg CBD each.
iwzrXacrts
Will
1906 Midnight | 1:1 Indica 6-Pack 30mg Rec
Precise dosage. Not too much in each piece. Consistent. Taste great. And they work - great night's sleep guaranteed. What more do you need?
Similar Products