18.00
18.00
25.00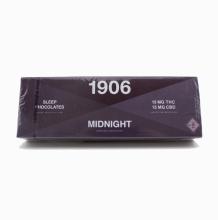 1906 Midnight | 1:1 Indica 6-Pack 30mg Rec
Pick-up Location
Note:
Price may vary at different stores
Description
Midnight from 1906 New Highs is for sleep. The kind of sleep that makes you wake up fresh and restored like you only dreamt of. A mild, excellent tasting dark milk chocolate gem containing Corydalis and other plants that will help you turn off a long day and the stress with it. Rejuvenate positivity and let yourself go into the rest mode of a night full of stars. 5mg THC – 5mg CBD per chocolate.
EvLgwenTgx
Will
1906 Midnight | 1:1 Indica 6-Pack 30mg Rec
Precise dosage. Not too much in each piece. Consistent. Taste great. And they work - great night's sleep guaranteed. What more do you need?
Similar Products