1
1
10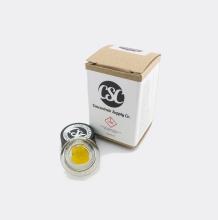 CSC Live Resin | Tora Bora 1g Rec
Pick-up Location
Note:
Price may vary at different stores
Description
Tora Bora 1g Rec. It all starts with state-of-the-art equipment & amazing cannabis. Live Resin is extracted from fresh, frozen plant material using extremely cold solvents to maximize both cannabinoid & terpene content – the true essence of the plant's profile. These extractions are known for being exceptionally flavorful, with potency to match. Consistencies include Sauce, Sugar, Sap, & Fractions including THCA Crystal/High Terpene Extract.
Available in 1g units
Typical potency: 80-90% Cannabinoids
Terpene Content: High
Characteristics
Manufacturer
Concentrate Supply Company
This product is not rated yet. Be the first to review it.
Similar Products