1
1
10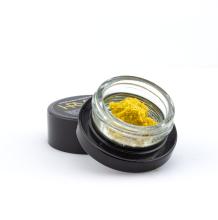 HRVST Live Sugar | Granola Funk 1g Med
Pick-up Location
Note:
Price may vary at different stores
Description
The process begins by sourcing the highest quality Cannabis trim and flower from several of Colorado's best medical and recreational gardens. Then the hydrocarbon extraction process using solvents such as Butane, Propane, and Heptane separates cannabinoids, terpenes, and flavonoids from the plant material. The extract is then "purged" of the residual solvents, resulting in a clean, terpene-rich product.
Live sugar is similar to live diamonds, however, we don't allow the crystals to grow for the same period of time, resulting in smaller cannabinoid formations. Live sugar also includes concentrated terpenes, allowing the user to combine the "sugar" and terpenes according to their personal preference.
The product may look different from the image.
STRAIN TYPE: Indica-dominant hybrid.
kY5oc8rHbu
This product is not rated yet. Be the first to review it.
Similar Products