1
1
10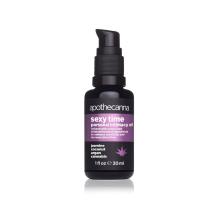 Apothecanna Sexy Time Oil | 1oz Rec
Pick-up Location
Note:
Price may vary at different stores
Description
Sensual and arousing intimacy oil with exotic and wild crafted plant ingredients to enhance sensitivity and increase blood flow. Use privately or with a partner. Key Ingredients include: Jasmine – aphrodisiac, soothing Coconut – sensual glide, enriching Argan – deeply nourishing, blood-flow stimulating Cannabis – analgesic, relaxing, anti-inflammatory Use 15 minutes before intimacy. Massage lightly to neck, chest, and other erogenous zones. Reapply as needed.
jtBqDsdTkC
Jeffrey Henneman
Apothecanna Sexy Time Oil | 1oz Rec
67 yr old male love this great product. Excellent lube used it with female partner who is sensitive to certain lubes with no complaints.
Similar Products