30.00
30.00
30.00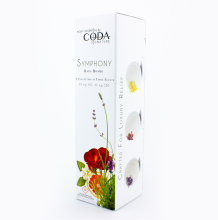 Coda Signature Symphony | Bath Bomb CBD:THC 45mg Rec
Pick-up Location
Note:
Price may vary at different stores
Description
Coda Signature Body Essential Symphony Bath Bomb Collection orchestrates the rich effect of cannabis with our unique oil blends to provide a total body experience. Simply drop a single bath bomb into a warm bath, submerge yourself, breathe deeply, and let the effervescent experience wash over you. The collection features three scents: Uplift, Balance, & Calm. SCENT: Calm - Cedarwood, Lavender, Sweet Marjoram, and Benzoin. Balance - Rose Geranium, Patchouli, and Lavender. Uplift - Grapefruit, Bergamot, Sweet Marjoram, Black Pepper, and Rosemary. STRAIN TYPE: 1:1 CBD:THC. DOSAGE: 45 mg CBD & 45 mg THC total. 3 bath bombs x 15mg CBD and 15mg THC each.
Ndz7EuCttK
Characteristics
Manufacturer
Coda Signature
This product is not rated yet. Be the first to review it.
Similar Products