10.00
10.00
10.00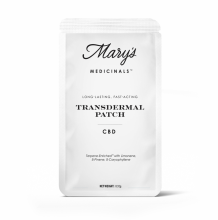 Mary's Medicinals CBD Patch | 20mg Rec
Pick-up Location
Note:
Price may vary at different stores
Description
Mary's award-winning CBD (Cannabidiol) patches are borne out of commitment to accurate dosing and use of advanced delivery methods. Offering a quick onset and unsurpassed duration, Mary's patches are 2x2 inch squares, easy to use, and are easily adhered to any part of the skin for discreet, all day (or night) relief.
c6fowmoTZo
Characteristics
Manufacturer
Mary's Medicinals
QA
Mary's Medicinals CBD Patch | 20mg Rec
Good source of CBD. And extrmely convenient.
Similar Products