3.00
3.00
4.00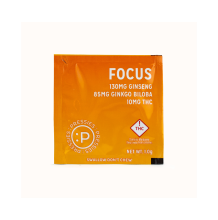 O.Pen Pressies Tablet | Focus 10mg Rec
Pick-up Location
Note:
Price may vary at different stores
Description
O.Pen Pressies Focus Tablet 10mg. Do what you gotta do (and have fun doing it). A carefully-calibrated combination of Ginkgo Biloba, Ginseng + THC (cannabis oil) that helps you get in the zone — without zoning out. Pressies:Focus is formulated to avoid the jitters you may get from caffeine. Pressies are a series of wellness supplements that contain effective, targeted nutraceuticals plus a healthy dose of THC to help you do the things you gotta do. On your terms. INGREDIENTS: 10mg THC, 130mg ginseng, 85mg ginkgo biloba. DIETARY RESTRICTIONS: Gluten free, vegan. No major allergens. STRAIN TYPE: Hybrid. DOSAGE: 1 tablet x 10mg THC each.
wrzupbHpXn
Jordan
O.Pen Pressies Tablet | Focus 10mg Rec
Pretty good though I'm not big on all the stuff in it like ginkgo and the rest. But it will do if you have nothing else.
Similar Products