1
USD
10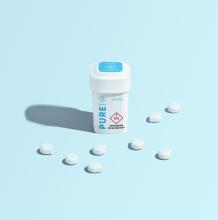 1906 Relief Drops | 5:1 100mg Rec
Pick-up Location
Note:
Price may vary by store
Description
A high dose of cannabinoids, zero calories, zero allergens. Best value for total cannabinoids on the market. Fast acting - the effects are felt within 20 minutes.
These pills are made to be swallowed.  Do not suck or chew.
DOSAGE: 500mg CBD and 100mg THC total. 20 pills x 25mg CBD and 5mg THC each.
tfySxveZkC
Casey
1906 Relief Drops | 5:1 100mg Rec
I loved the ratio and the fact that it is still has some thc. They are not easy to find so get a bunch when you do.
Will O'Brien
1906 Relief Drops | 5:1 100mg Rec
What I assume a normal person feels like is my experience with these drops. My high anxiety is gone. Perfect!
Chem
1906 Relief Drops | 5:1 100mg Rec
Similar Products