25.00
25.00
25.00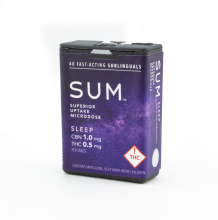 SUM Microdose Mints | Sleep CBN 2:1 20mg Med
Pick-up Location
Note:
Price may vary at different stores
Description
SUM Microdose Mints Sleep 2:1. The sleep-related cannabinoid called CBN provides gentle sedation. SUM's cannabinoid-only formulation allows your body to fall asleep naturally, without the use of hormones like melatonin or artificial sleep aids. SUM or Superior Uptake Method was developed as a better way to consume cannabinoids. Traditional methods end up being metabolized into a mere fraction of their original form and amount. SUM is a highly bioavailable, water-soluble tablet that dissolves under your tongue delivering more cannabinoids to the bloodstream — without pools of oil or sugar. INGREDIENTS: Mannitol, microcrystalline cellulose, silicified microcrystalline cellulose, crospovidone, sodium stearyl fumarate, soy lecithin, methyl salicylate (wintergreen flavor), pure Cannabinol (CBN) isolate, pure Tetrahydrocannabinol (THC) distillate. DIETARY RESTRICTIONS: Sugar and gluten free, vegan. STRAIN TYPE: 2:1 CBN:THC. Pure THC distillate. DOSAGE: 40mg CBN and 20mg THC total. 40 sublinguals x 1mg CBN and 0.5mg THC each.
souBWtWWjN
Characteristics
Manufacturer
SUM Microdose
This product is not rated yet. Be the first to review it.
Similar Products