60.00
60.00
60.00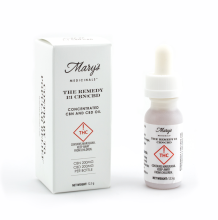 Mary's Medicinals Remedy Tincture | CBD & CBN 1:1 200mg Rec
Pick-up Location
Note:
Price may vary at different stores
Description
Inspired by science and nature, Mary's Medicinal's 1:1 CBN:CBD Remedy Tincture offers a winning combination that fosters sleep and counters discomfort with a minimized psychotropic effect. Sublingual tincture delivery is convenient, discreet and easier to dose than edibles. The citrus-vanilla flavor creates a relaxing, soothing effect, which peaks about 90 minutes after consumption and can last 4-8 hours. Use the measured dropper to fill to desired amount. Start with 0.25mL and administer under the tongue. INGREDIENTS: Safflower oil, cannabis extract, vanilla flavoring, orange flavoring. DOSAGE: 200mg CBN and 200mg CBD total.
tXsSpyMXPH
Characteristics
Manufacturer
Mary's Medicinals
Characteristics
Manufacturer
Mary's Medicinals
RGR
Mary's Medicinals Remedy Tincture | CBD & CBN 1:1 200mg Rec
I love experimenting with cannabinoids and this combo was pretty sweet!
Similar Products