35.00
35.00
35.00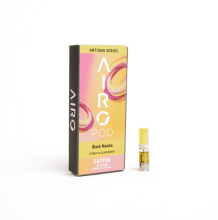 AiroPro Cartridge | Black Mamba 500mg Rec
Pick-up Location
Note:
Price may vary at different stores
Description
AiroPro's innovative Black Mamba Artisan series 500 mg ceramic cartridges are pre-filled with high-potency pure distillate oil. Named for its deadly delicious flavor, Black Mamba ensures its blackberry citrus flavor slithers through your body. As soon as the flavor bites your palate, you will be awakened and ready to rule your jungle. STRAIN: Sativa. BATTERY TYPE: AiroPro cartridges use a proprietary Airo Pro/IndigoPro pen. Durable, virtually-unbreakable magnesium alloy body and long-lasting 320mAh Li-ion battery. 8.5 W power output, 300mA (1.5W) charging current, Micro USB rechargeable.
xKDJ95QwM2
This product is not rated yet. Be the first to review it.
Similar Products