1
USD
10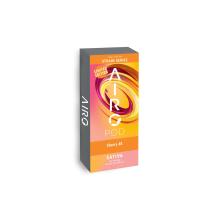 AiroPro Cartridge | Cherry AK 500mg Rec
Pick-up Location
Note:
Price may vary by store
Description
Cherry AK is a Sativa that keeps you focused and engaged in whatever adventure you're about to embark on. Whether it be an outdoor concert, a hike, or activating your creative side, Cherry AK will electrify your mind with enthusiasm. As you inhale, taste sweet berry and fruit from dominant terpenes Myrcene and Beta-Caryophyllene. As you exhale, feel your consciousness lift and enliven with motivation.
AiroPro's cartridges use the best high-performance ceramic atomizer to provide consistent and unaltered experience from first draw to last. Airo Brands is driven to create an intuitive, virtually effortless, and cleverly designed vapor experience.
STRAIN: Sativa.
AIROPRO SERIES: Strain.
POTENCY: Avg. 80% cannabinoids. See packaging for details.
BATTERY TYPE: AiroPro cartridges use a proprietary AiroPro / IndigoPro pen. Durable, virtually-unbreakable magnesium alloy body and long-lasting 320mAh Li-ion battery. 8.5 W power output, 300mA (1.5W) charging current, Micro USB rechargeable.
cLN77Ad7dX
This product is not rated yet. Be the first to review it.
Similar Products