1
1
10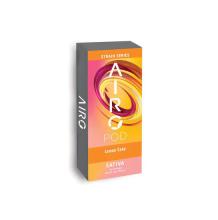 AiroPro Cartridge | Lemon Cake 500mg Rec
Pick-up Location
Note:
Price may vary at different stores
Description
Lemon Cake, a sativa-dominant hybrid cross of flavorful Lemon OG and potent Jesus OG strain, combines a unique taste with energy and focus. The sweet vanilla and bright citrus flavors deliver an eye-opening sense of happiness in both mind and body.
AiroPro's cartridges use the best high-performance ceramic atomizer to provide consistent and unaltered experience from first draw to last. Airo Brands is driven to create an intuitive, virtually effortless, and cleverly designed vapor experience.
STRAIN: Sativa-dominant hybrid.
FLAVOR: Vanilla and citrus.
AIROPRO SERIES: Strain.
POTENCY: Avg. 80% cannabinoids. See packaging for details.
BATTERY TYPE: AiroPro cartridges use a proprietary AiroPro / IndigoPro pen. Durable, virtually-unbreakable magnesium alloy body and long-lasting 320mAh Li-ion battery. 8.5 W power output, 300mA (1.5W) charging current, Micro USB rechargeable.
tNru7QbTj7
This product is not rated yet. Be the first to review it.
Similar Products