50.00
50.00
50.00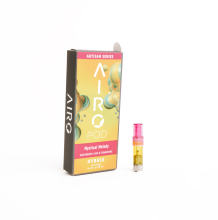 AiroPro Cartridge | Mystical Melody 1000mg Rec
Pick-up Location
Note:
Price may vary at different stores
Description
AiroPro's innovative Mystical Melody 1000 mg ceramic cartridges are pre-filled with high-potency, naturally-flavored pure distillate oil. The melodious combination of raspberry lime & tangerine combined with the mystical burst of euphoria and energy make Mystical Melody the perfect all day treat. This balanced hybrid will not only stimulate conversation and creativity but the sense of taste as well. STRAIN: Hybrid. BATTERY TYPE: AiroPro cartridges use a proprietary Airo Pro/IndigoPro pen. Durable, virtually-unbreakable magnesium alloy body and long-lasting 320mAh Li-ion battery. 8.5 W power output, 300mA (1.5W) charging current, Micro USB rechargeable.
qYgzzBxWKw
This product is not rated yet. Be the first to review it.
Similar Products