1
1
10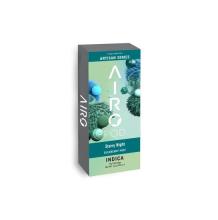 AiroPro Cartridge | Starry Night 500mg Rec
Pick-up Location
Note:
Price may vary at different stores
Description
Immerse yourself in the Milky Way with Artisan Series Starry Night. This Indica brings a feeling of peaceful connectivity to the cosmos. As you inhale, taste fresh, cool blueberry mint as you lay back on your favorite soft blanket. As you exhale, feel harmonious tranquility as you gaze at the constellations, drift into space, and let your mind travel from constellation to constellation.
AiroPro's Artisan Series, made from purified cannabis oil, is an exclusive fusion of trademarked tastes, derived 100% from naturally occurring botanical terpenes. Arouse your palate with vapor full of colorful fruit, floral, and savory notes. Inhale for enticing tastes, and exhale to fill the room with sensational aromas. AiroPro's cartridges use the best high-performance ceramic atomizer to provide consistent and unaltered experience from first draw to last. Airo Brands is driven to create an intuitive, virtually effortless, and cleverly designed vapor experience.
FLAVOR: Blueberry Mint.
STRAIN: Indica.
AIROPRO SERIES: Artisan.
POTENCY: Avg. 80% cannabinoids. See packaging for details.
BATTERY TYPE: AiroPro cartridges use a proprietary AiroPro / IndigoPro pen. Durable, virtually-unbreakable magnesium alloy body and long-lasting 320mAh Li-ion battery. 8.5 W power output, 300mA (1.5W) charging current, Micro USB rechargeable.
T39v2iCRnq
This product is not rated yet. Be the first to review it.
Similar Products