1
USD
10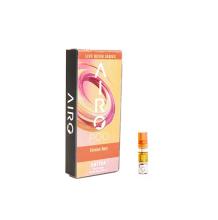 AiroPro Live Resin Cartridge | Crescendo Glue 1000mg Rec
Pick-up Location
Note:
Price may vary by store
Description
Airo Live Resin Series is a fierce, full-spectrum concentrated extract, unique from wax or shatter. It contains the original cannabinoid and terpene profile from live, freshly frozen plants—never cured. The premium cryogenically-frozen flower is harvested at its peak and then extracted using hydrocarbon to preserve all the terpenes. Its complex terpene profile is authentic to the true plant and is densely rich in THCa. Inhale smooth, full-bodied vapor for a tenaciously elevated entourage effect.
AiroPro's cartridges use the best high-performance ceramic atomizer to provide consistent and unaltered experience from first draw to last. Airo Brands is driven to create an intuitive, virtually effortless, and cleverly designed vapor experience.
STRAIN: Sativa-dominant hybrid. 
AIROPRO SERIES: Live Resin
POTENCY: Avg. 80% cannabinoids. See packaging for details.
AIROPRO BATTERY TYPE: AiroPro cartridges use a proprietary AiroPro / IndigoPro pen. Durable, virtually-unbreakable magnesium alloy body and long-lasting 320mAh Li-ion battery. 8.5 W power output, 300mA (1.5W) charging current, Micro USB
u3aa9wqDZu
This product is not rated yet. Be the first to review it.
Similar Products