1
1
10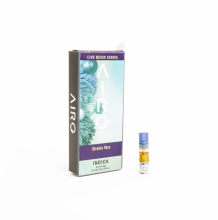 AiroPro Live Resin Cartridge | Indica 500mg Rec
Pick-up Location
Note:
Price may vary at different stores
Description
AiroPro's innovative Live Resin Indica 500 mg ceramic cartridges are pre-filled with pure live resin. STRAIN: Indica. BATTERY TYPE: AiroPro cartridges use a proprietary Airo Pro/IndigoPro pen. Durable, virtually-unbreakable magnesium alloy body and long-lasting 320mAh Li-ion battery. 8.5 W power output, 300mA (1.5W) charging current, Micro USB rechargeable.
ZhXJeB33hs
Mikael
AiroPro Live Resin Cartridge | Indica 500mg Rec
Great stuff from Airopro. Smokes bad ass and I can only say good things about the battery set up. None of the 510's for me.
Similar Products