1
1
10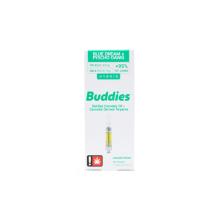 Buddies, Amnesia Haze Distillate Cartridge, 1g
Pick-up Location
Note:
Price may vary at different stores
Description
1 Gram Distillate Cartridge from Buddies. Amnesia Haze. 5/10 thread. Buddies Brand produces the highest quality, best tasting THC Products at a price that fits your budget. Our Patent Pending Real Cannabis terpene process ensures that your cartridge tastes as good as the amazing flower it came from. Our fruit flavors are authentic and provide an explosion of wonderful fruit flavor! Buddies Brand concentrates capture the full-bodied aromatic experience of the whole cannabis plants it is sourced from carefully crafted from fresh-frozen and whole-plant flowers for maximum terpene flavors.
PORTLAND ONLY.
This product is not rated yet. Be the first to review it.
Similar Products