1
1
10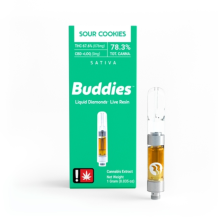 Buddies, Canna Tsu LR Cart., 1g
Pick-up Location
Note:
Price may vary at different stores
Description
Buddies is able to lock in the raw expression of the cultivar, by harvesting with ice in hand to immediately preserve the harvest-ready terpene and cannabinoid profile of the plant. This enables us to deliver the fresh taste of the flower on the plant and a higher terpene content in our products. Fresh Frozen cannabis simply means steps were taken to harvest and immediately freeze the material before any degradation or transitionary curing processes took effect.
YFNDFTJEeu
Characteristics
Manufacturer
Buddies Brand
This product is not rated yet. Be the first to review it.
Similar Products