1
USD
10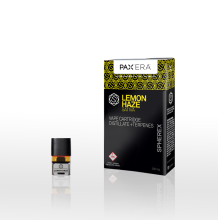 Spherex Distillate Pax Pod | Lemon Haze Sativa 500mg Rec
Pick-up Location
Note:
Price may vary by store
Description
Spherex Lemon Haze is an award winning strain with a taste of mango, kush and pine undertones. This strain is smooth, invigorating and will provide a boost to any afternoon or evening. Best known for its uplifting and euphoric effects. Spherex vape cartridges are created with innovate extraction and refinement techniques. Each cartridge features unique terpenes selected from the favorite cannabis strains. Each strain is analyzed for composition then blended to taste. With the perfect blend in hand, Spherex sources the highest quality natural terpenes to create a consistent experience. Set your preferences and personalize your vaping with the PAX Session Control technology. STRAIN TYPE: Sativa. POTENCY: 85% THC. 12% Cannabinoids. 3% Terpenes. BATTERY TYPE: Proprietary Pax battery for Pax pods.
8kD35SKSXD
This product is not rated yet. Be the first to review it.
Similar Products