1
USD
10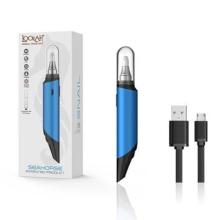 High Mountain Imports | Lookah Seahorse 2 in 1 Dab Vaporizer
Pick-up Location
Note:
Price may vary by store
Description
Lookah Seahorse is 2in1 wax vaporizer, is a Dip style dabber. The Lookah Seahorse features Quartz Dip coil, integrated 650mAh battery with three power settings, single button operation, and fast charging.
The Lookah Seahorse offers a unique touch style Dip Coil with a food-grade Quartz tip that allows you to "grab" concentrates directly from the container.
The coil is made out of pure porous Quartz. Because of that, the Lookah Seahorse provides an extremely pure and smooth taste.
The coil connects through standard 510 thread connection, and it allows the user to connect an oil cartridge instead of a coil, if desired.
The Lookah Seahorse is pre-programmed with three temperature settings - low, medium and high and operates with a single button.
Lookah Seahorse can be charged through USB charger with 5V/250mA.
Model: Lookah Seahorse
Battery Capacity: 650mAh
Battery Voltage: 3.7V
Resistance: 1.0 - 9.99Ohm
Temperatures: Low - Medium - High
Coil: Quartz Dip
Charging: Micro USB
Microsecond output short-circuit protection
Battery volume protection
Housing temperature protection
Overheat protection for a whole device
Over-Charge protection
cjSBEFHdT8
Characteristics
Manufacturer
High Mountain Imports
Characteristics
Manufacturer
High Mountain Imports
This product is not rated yet. Be the first to review it.
Similar Products