Online Order and Payment Instructions
To place an online order for subsequent pick up please follow these step by step instructions:
Please watch our video guide or scroll down to read the instructions for online ordering, payment and pickup procedures.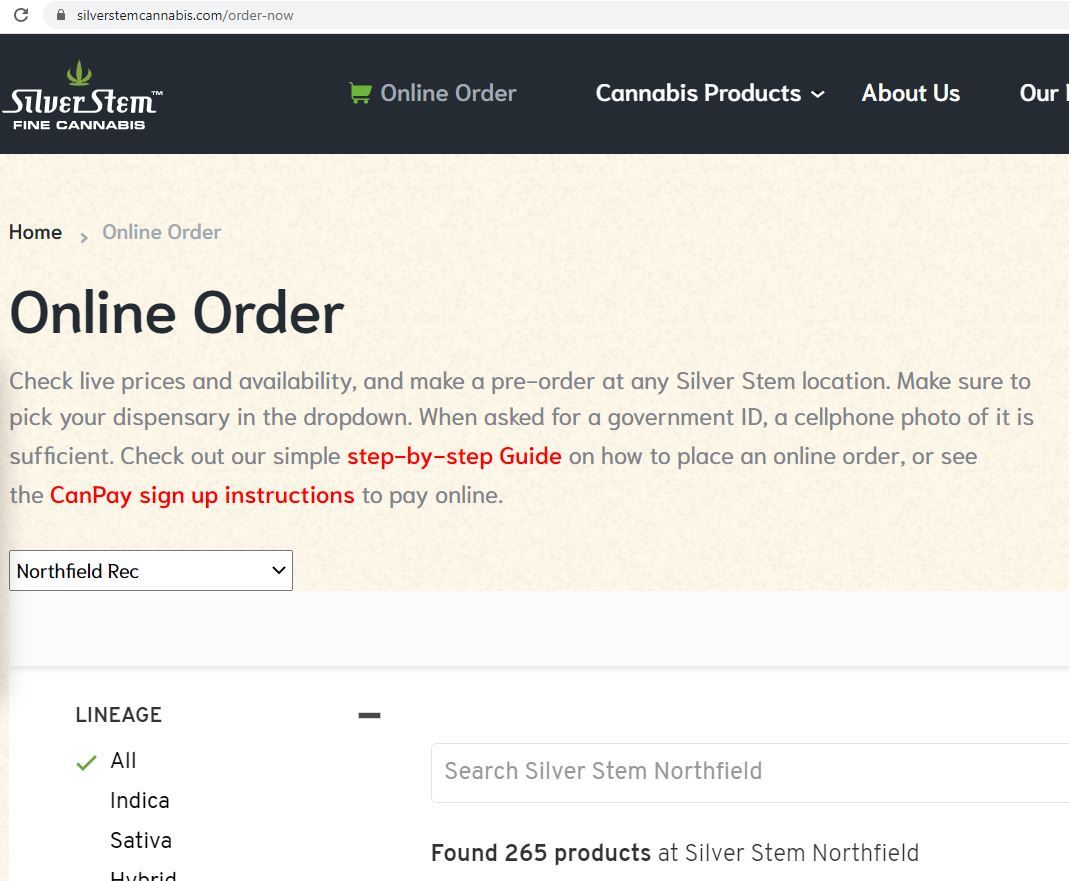 Step 1. Go to https://silverstemcannabis.com/order-now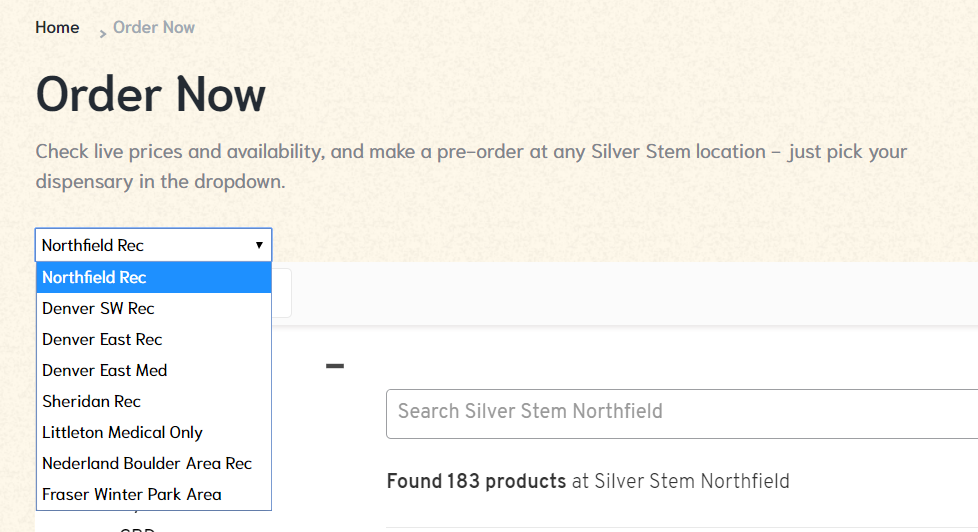 Step 2. Select the store for your pick up in the dropdown list and you will see its menu.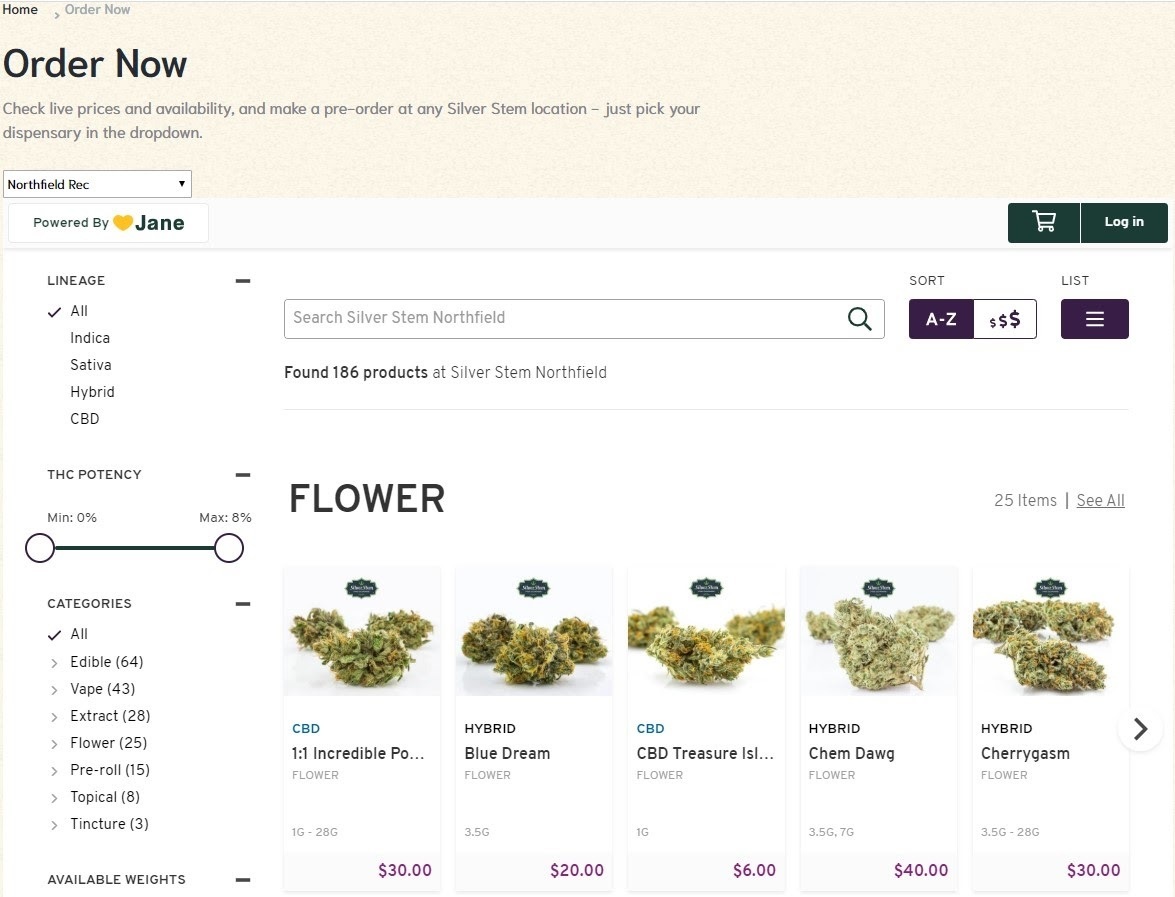 Step 3. Select the products you wish to purchase.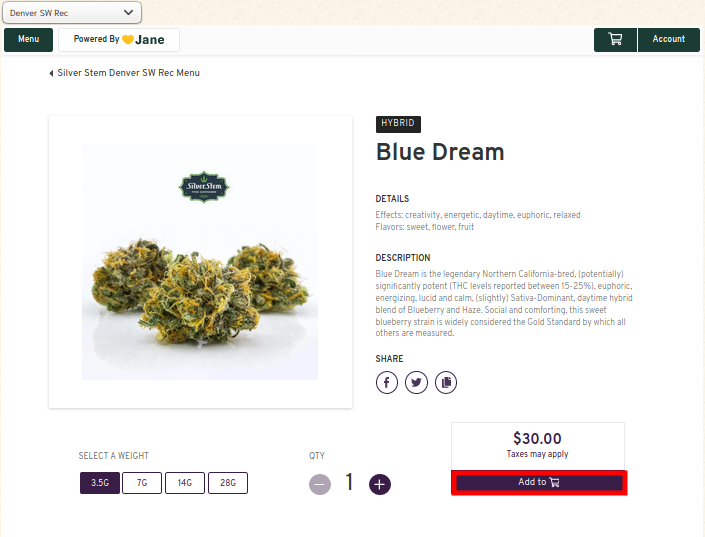 Step 4. Add items to your cart. Please note, prices on this page do not include tax. It will be added at checkout.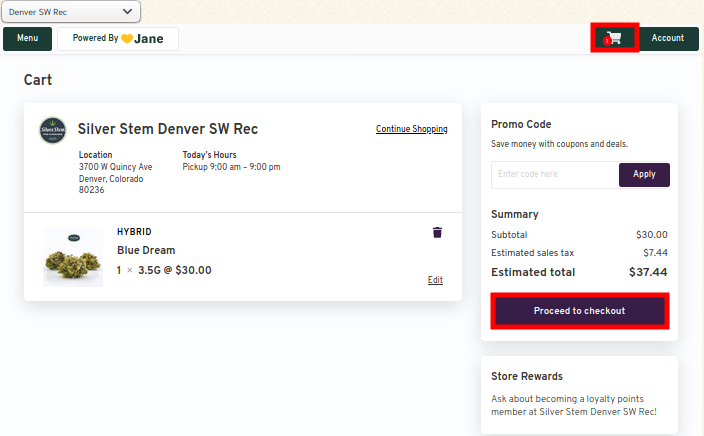 Step 5. Go to your cart in the upper righthand corner and click "Proceed to checkout". Please note you will be required to Log In or Create an account with Jane. This is a very quick and simple process.


Step 6. To complete your Jane account setup on the Medical side, please upload a photo of your Medical Marijuana Card (a cell phone photo or a screenshot is sufficient) and fill in the highlighted fields. Don't forget to choose your preferred pickup time.
 
Step 7. Select Form of Payment. To pay for your online order with a credit / debit card at pick up, select "I plan to pay at pickup with cash or card". Or select paying online with CanPay.
Effective 3/31/20, customers wishing to pick up their orders curbside are required to prepay online or have a credit / debit card available to pay via provided wireless terminals at curbside. All cash transactions must be completed inside the store. 

To pay online - select CanPay

Note: This option is only available during posted business hours. For CanPay Sign Up instructions click here.

To pay by Cash or Debit Card or if you are a PPP patient - select CASH. Note: If you wish to pay in cash, you will be required to come into the store. If you wish to pay by debit card – you may do so at curbside. Primary Patient Program customers wishing to have their points and discounts applied, must select CASH as form of payment.

After that, click "Confirm PICKUP reservation total ..."
Step 8.  You will receive three (3) notifications via text:

Order accepted. "Your order has been sent to the store. You can reach them at *phone number* with any questions or concerns. Curbside pick up is for prepaid orders via CanPay or debit payment at curbside pickup only (fees apply). Cash payment for online orders will be in store only. Thank you!"

Order being prepared. "Your items are being prepared by *employee* at *store*."

Order ready for pick up. "Your reservation with *employee* is ready for pickup. Please call us at *phone number* when you arrive and park in the designated area. Thank you."
Please do not arrive prior to receiving the final confirmation of your order being ready for pickup and keep in mind that orders can only be placed for the same day pick up.
If you paid online or wish to pay by debit card via provided wireless terminals, please park in the designated curbside pickup area and notify our personnel stationed outside and you will be served promptly. Our Nederland and Fraser stores only have walk-up capabilities.
Loyalty Points
To check the number of points you have accrued, reply "Points" to any text message you received from Silver Stem or ask the webchat operator to check them for you.