120.00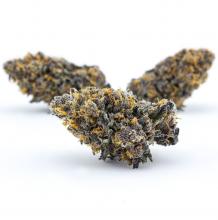 Dark Matter OG | Indica
Pick-up Location
Note:
Price may vary at different stores
Description
Hey there Space Cadets, strap in and get ready to blast off! Thanks to its super stellar parentage, this heavy indica dominant offering will have you slipping into a space unknown. It may get weird, but what do you expect? We can't describe it either!! Remember, It's no simple highway. This path is for your steps alone!
sYkw5vKjPq
Rodney M.
Dark Matter OG | Indica
Being a med patient and a happy member at Silver Stem, I usually stick with something I like but decided to go wild and try all three new strains they just got in. All three are OG's, and funky indicas that give you cerebral and body buzz at the same time. This one is special. The terps, the smell, the LOOK! Get it while it lasts and thank me later!
SpaceX
Dark Matter OG | Indica
This is out of this world! Especially the looks! Insane!
Rodney M.
Dark Matter OG | Indica
Just found out I was wrong about three new strains. It's actually four. Hell's Angels is the one I gotta try now.
Ripley
Dark Matter OG | Indica
Highly creative strain. Surprisingly. Also surprisingly mellow. And of course it looks bad ass
Similar Products