25.00
USD
25.00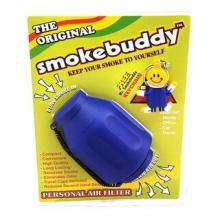 High Mountain Imports | Smoke Buddy
Pick-up Location
Note:
Price may vary at different stores
Description
The Smokebuddy is a pocket size, handy, and reliable, life saving air filter.
Simply exhale your smoke through your easy-to-use Smokebuddy and odorless air comes out the other end.
Smoke where you want, and when you want without anyone being the wiser.
Keep second hand smoke away from friends, family, and neighbors with your Smokebuddy.
uJJRTJCcee
Characteristics
Manufacturer
High Mountain Imports
This product is not rated yet. Be the first to review it.
Similar Products