1
1
10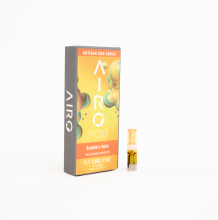 AiroPro Cartridge | Budda's Smile 1:1 500mg Rec
Pick-up Location
Note:
Price may vary at different stores
Description
AiroPro's Buddha's Smile 500 mg ceramic cartridges are pre-filled with high CBD, naturally flavored artisanal CO2-extracted oil. Buddha's Smile, a refreshing orange infusion with light citrus undertones, delivers dreamy relaxation and very light "high" effects with its well balanced 1:1 CBD/THC ratio. STRAIN: Indica. BATTERY TYPE: AiroPro cartridges use a proprietary Airo Pro/IndigoPro pen. Durable, virtually-unbreakable magnesium alloy body and long-lasting 320mAh Li-ion battery. 8.5 W power output, 300mA (1.5W) charging current, Micro USB rechargeable.
RiHxyk58n2
This product is not rated yet. Be the first to review it.