1
USD
10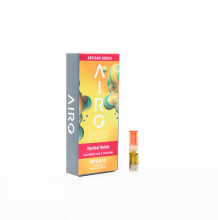 AiroPro Cartridge | Mystical Melody 500mg Rec
Pick-up Location
Note:
Price may vary by store
Description
AiroPro's innovative Mystical Melody 500 mg ceramic cartridges are pre-filled with high-potency, naturally-flavored pure distillate oil. The melodious combination of raspberry lime & tangerine combined with the mystical burst of euphoria and energy make Mystical Melody the perfect all day treat. This balanced Hybrid will not only stimulate conversation and creativity but the sense of taste as well.
AiroPro's Artisan Series, made from purified cannabis oil, is an exclusive fusion of trademarked tastes, derived 100% from naturally occurring botanical terpenes. Arouse your palate with vapor full of colorful fruit, floral, and savory notes. Inhale for enticing tastes, and exhale to fill the room with sensational aromas. AiroPro's cartridges use the best high-performance ceramic atomizer to provide consistent and unaltered experience from first draw to last. Airo Brands is driven to create an intuitive, virtually effortless, and cleverly designed vapor experience.
FLAVOR: Raspberry Lime & Tangerine.
STRAIN: Hybrid.
AIROPRO SERIES: Artisan.
BATTERY TYPE: AiroPro cartridges use a proprietary AiroPro / IndigoPro pen. Durable, virtually-unbreakable magnesium alloy body and long-lasting 320mAh Li-ion battery. 8.5 W power output, 300mA (1.5W) charging current, Micro USB rechargeable.
uboHYzeXbK
Choco Loco
AiroPro Cartridge | Mystical Melody 500mg Rec
Airopro is great, consistent, with a huge variety of flavors. The only downside is separate batteries, but I think it's worth it.
Similar Products