1
USD
10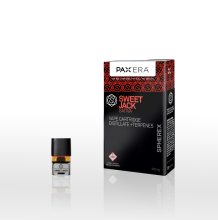 Spherex Distillate Pax Pod | Sweet Jack 500mg Rec
Pick-up Location
Note:
Price may vary by store
Description
Spherex Sweet Jack is a bright strain that can enliven any conversation, spark creativity or enhance physical activity. It is a sativa dominant profile with a sweet citrus aroma. Spherex vape cartridges are created with innovate extraction and refinement techniques. Each cartridge features unique terpenes selected from the favorite cannabis strains. Each strain is analyzed for composition then blended to taste. With the perfect blend in hand, Spherex sources the highest quality natural terpenes to create a consistent experience. Set your preferences and personalize your vaping with the PAX Session Control technology. STRAIN TYPE: Sativa. POTENCY: 85% THC. 12% Cannabinoids. 3% Terpenes. BATTERY TYPE: Proprietary Pax battery for Pax pods.
PHanZCw2iA
Jean
Spherex Distillate Pax Pod | Sweet Jack 500mg Rec
Loved this Spherex cart. Relatively cheap too.
Similar Products