1
USD
10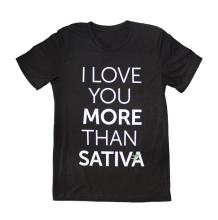 I Love Sativa Tee Shirt | Black Size S
Pick-up Location
Note:
Price may vary by store
Description
Express your love! And do it with humor. Do it sincerely. Do it in an original way. Cannabis strains come in several types. Sativa or Indica and hybrid, which is a mixture of the two. Sativa strains are known to give you a boost of energy, creativity, they induce socializing and are great for day time use. Indica, on the other hand, is a night time stress reliever and a great way to get a restful sleep. But being a cannabis enthusiast, you might want to let your partner know that they are always #1.
MJA4bCZ4kS
This product is not rated yet. Be the first to review it.