1
USD
10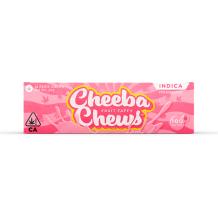 Cheeba Chews | Strawberry Indica 100mg Rec
Pick-up Location
Note:
Price may vary by store
Description
Cheeba Chews Strawberry Indica Taffy 100mg. As one of the cannabis industry's best tasting edibles, these sweet strawberry-flavored fruit taffy chews are infused with high-grade Indica THC oil. Explore the full spectrum experience of these delicious taffies. Cheeba Chews™ is dedicated to producing the highest quality cannabis infused edibles, delivering superior customer service and creating a reliable and enjoyable product line to customers. INGREDIENTS: Glucose Syrup, Sugar, Natural Flavor, Egg Whites, Mono - Diglycerides, Malic Acid, Citric Acid, Natural and Artificial Colors. DIETARY RESTRICTIONS: Gluten & peanut free; low calorie, low sugar. STRAIN TYPE: Indica. DOSAGE: 100mg THC total. 10 taffies x 10mg each.
ES78vu8fZw
Characteristics
Manufacturer
Cheeba Chews
Characteristics
Manufacturer
Cheeba Chews
This product is not rated yet. Be the first to review it.
Similar Products