36.00
USD
36.00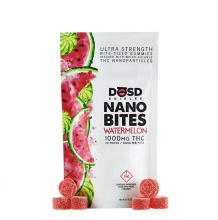 DOSD Nano Bites | Watermelon 1000mg Med
Pick-up Location
Note:
Price may vary by store
Description
Sweet and juicy, similar to your favorite Jolly hard candy. You won't want to put them down! Infused with water-soluble cannabinoid nanoparticles for quicker absorption and increased bio-availability.
INGREDIENTS: Glucose Syrup, Cane Sugar, Water, Gelatin, Sorbitol, Vegetable Glycerin, Tartaric Acid, Natural & Artificial Flavoring, THC Water-Soluble Distillate Blend, Natural & Artificial Coloring.
DIETARY RESTRICTIONS: Gluten free.
DOSAGE: 1000mg THC total. 20 pieces x 50mg THC each.
sBrejMzbCi
This product is not rated yet. Be the first to review it.
Similar Products