1
USD
10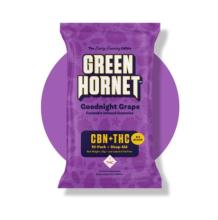 Green Hornet Gummy | Goodnight Grape 100mg Rec
Pick-up Location
Note:
Price may vary by store
Description
An extra strength nightly sleep-aid, with 10mg of THC and 5mg of CBN and approximately 2mg of melatonin in each delicious grape gummy. A great low calorie, fat free 'every evening edible'.
INGREDIENTS: Glucose Syrup, Sugar, Gelatin, Citric Acid, Natural and Artificial Flavors, Coconut Oil, Natural Colors, Carnauba Wax.
DOSAGE: 50mg CBD and 100mg THC total. 10 pieces x 5mg CBN and 10mg THC each.
jY8zHqtMCM
Characteristics
Manufacturer
Cheeba Chews
Characteristics
Manufacturer
Cheeba Chews
Blaine
Green Hornet Gummy | Goodnight Grape 100mg Rec
Need sleep? This gummy is a tranquilizer had some pretty crazy dreams but I medicate once or twice a month and these hit hard
Similar Products