1
1
10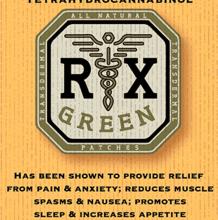 RX Green THC Hybrid Patch
Pick-up Location
Note:
Price may vary at different stores
Description
Looking for an alternative to conventional Cannabinoid delivery methods? RX Green's all natural Transdermal Patches are the answer. Unlike smoking, tinctures, or edibles that once they are consumed cannot be controlled; RX Green Transdermal Patches are completely controllable. If the desired effect is not to your liking simply remove the patch. Because Cannabinoid molecules are too big to penetrate the dermis to the blood stream, carriers or enhancers are required for an effective, successful transdermal patch application. Instead of chemical enhancers used for the delivery method by some companies, RX Green Transdermal Patches use a proprietary blend of plant extracts to deliver all the health benefits of Cannabinoids all naturally with no chemical enhancers.
This product is not rated yet. Be the first to review it.
Similar Products